Ideas for Gymnasts



COMPARE YOURSELF TO PROGRAM VIDEOS

Watching the videos in the program can really help you improve your own skills. Use the frame controls (the 'G' and 'J' keys) in Player 1 to frame through the videos. Look for what I call "focus points" in the videos that are the most important positions to hit in any particular skill.

An even more powerful tool is Player 2 (see illustration below). If you have a digital video camera and video capture software you can show yourself next to the world class gymnasts in the videos. Even better, if you have a computer in the gym, you can perform a skill and review it right after you get off the equipment.

Remember these are powerful tools. Always work with your coaches to make sure you are completely prepared for any new skill.







Ideas for Coaches



FIND THE BEST SKILLS FOR YOUR ATHLETES

You will find a lot of valuable information in the gymnastics Study Guide series programs. Suppose you want to find the best 'C' value dismount for one of your gymnasts on Rings. Click the 'Rings' tab. Under 'Select Values' click C's. Under 'Select Element Group' click '5' (dismounts). Click 'Go to Skill Study'. Review the skills by clicking 'Next' until you have found the best choice based on your athlete's preparation.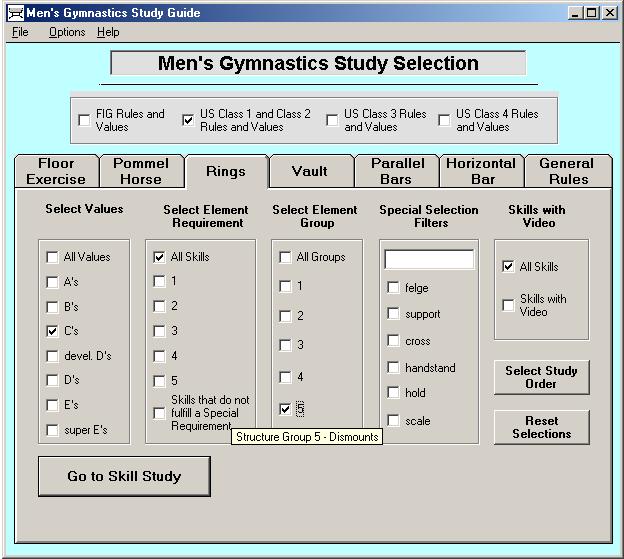 Ideas for judges



USE THE VIDEO PLAYER TO PRACTICE SYMBOLS IN 'REAL TIME'

Suppose you need to prepare for a judging assignment on Parallel Bars. First, use the 'Print' feature to print a list of skills with videos on Parallel Bars (see illustration). Then work through the videos in any order. Start a video, set for 'Repeat Play' and write symbols as the elements are performed. Repeat the video until you have mastered the shorthand and deductions, if any, for that video.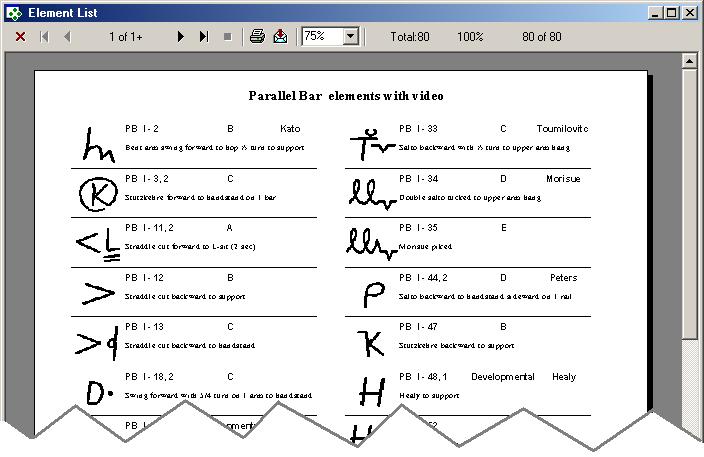 USE THE SCREEN SAVER TO LEARN SKILL VALUES AND RULES

The screen saver can help you prepare for a big judging assignment. After the program is installed on your machine, go to desktop properties and click the Screen Saver tab. Click 'Men's Gymnastics' and the 'Settings'. Set the competition level then the event of your assignment. Decide what information you want to review (the illustrations has everything checked). Leave the 'Random' setting and set the time for 5 seconds for fast review. Leave the 'What You Want to Study' section set to 'Values'. Click 'OK'

From the Windows 'Display Properties' screen click 'Preview'. Review element values or rules for 10 to 15 minutes per day until you master them.